Commercial Hot Water System Installation
I contacted Hot Water Systems Sydney when our hot water heater packed up. They are reliable, honest and on time. Highly recommended to anyone with hot water problems.
There is nothing worst than not having hot water, but there is no better feeling than receiving top notch customer service from Sarah and the team at HWSS. I couldn't be more appreciative as they came out after hours and didn't charge me an arm and a leg to fix our gas hot water system.
Woke up in the morning with no hot water. Rang John and he sent a technician over within the hour. Got it all working again, and have had no problems for the last 6 months now. Great service and great guys.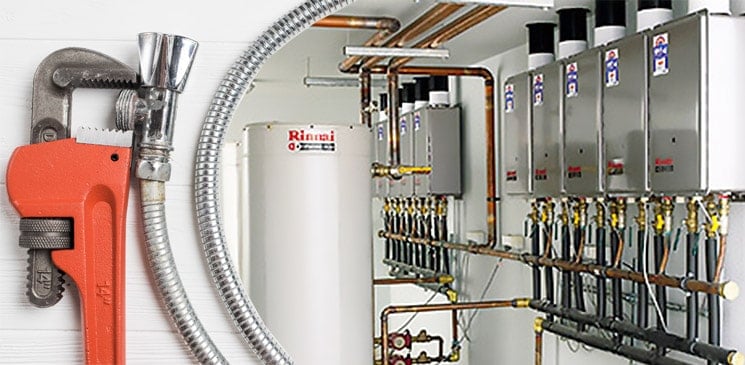 As a business owner, you want to make informed decisions regarding your commercial property to reduce potential risks and lower your routine property maintenance costs. Choosing a commercial hot water system installation is just another one of those decisions. Installing a water system that doesn't meet your business's hot water demand, that is of poor quality, or that has a high operating cost can be detrimental to your property maintenance efforts and financial health.
This makes installing a commercial hot water heater with adequate capacity, and that is energy efficient especially important. If you don't know anything about commercial water heating systems, it can be frustrating to gather enough information to make a financially sound decision.
If you want to install a hot water unit in Sydney, however, Hot Water Systems Sydney's team of water heating experts is ready to help. Our experienced team can provide you with a wealth of useful information as well as assist you in understanding how that information translates to your commercial hot water needs.
Commercial Hot Water Unit Installation
The first step in commercial hot water unit installation is to select a system that is cost-effective and able to meet your commercial property's demand. Hot Water Systems Sydney is an accredited supplier and installer of many high-end brands in Australia, and we can help you choose the right unit for your business's specific needs.
There are three different types of water heaters, including:
– Electric hot water systems
– Gas hot water systems
– Solar hot water systems
Electric and gas systems don't always come with a storage tank. Continuous flow or "tankless" systems heat water as it flows through a heat exchanger.
Each type of heating system has its pros and cons concerning hot water delivery, energy efficiency, installation costs, and service needs. Before recommending a specific water heating system and model, we will consider your unique needs, budget, and demand for hot water.
If you, for example, want your water heating system to be as energy efficient as possible, we may recommend a solar water heating system with an additional electric or gas booster to warm your water on overcast days.
If your business requires a limitless supply of water, on the other hand, a tankless water system may be more suitable for your needs. Hot Water Systems Sydney's team will consult extensively with you to determine precisely what your hot water demands are.
Commercial Hot Water Tank Replacement
If your business has a water heating system that is starting to show signs of aging and wear, a commercial hot water tank replacement may be the most cost-effective course of action.
Water heating units that have corrosion on the inside of the tank, leaks, and problems with their heating elements or pilot lights may cost you more to maintain in the long run. Since these problems compromise the energy efficiency of your hot water system, their operating costs may also increase.
Replacing a hot water tank may seem redundant, but Hot Water Systems Sydney offers affordable installations that will reduce running costs and make more financial sense.
Contact Hot Water Systems Sydney today for a free, no-obligation installation or replacement quote.
Let one of our experienced hot water technicians send you a free quote.
How Water Systems Sydney are the experts in everything hot water related. We not only sell hot water units, but we also install, replace, repair, and service hot water systems from leading brands such as Dux, Rheem, Rinnai, Bosch, Vulcan, and Aquamax.